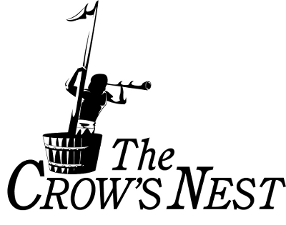 Welcome to The Crow's Nest.
I can assure you it's the most interesting research advisory in America.
We take pride in bringing you unconventional investments like emerging marijuana companies with blue-sky potential but very little downside risk.
By joining The Crow's Nest today, you'll get the ticker symbols and research reports on the three companies at the center of what could be the biggest profit opportunity of 2016 — and our lives.
These are companies you can buy into right now for astronomical gains.
To get started, you'll have immediate access to the following:
Special Report: "Green Rush Profits: 3 Ways To Play the End of Marijuana Prohibition in 2016" — 2016 is shaping up to be a landmark year for marijuana as both Republicans and Democrats line up behind legalization. When this inevitably happens, a small group of companies could skyrocket for gains like 2,850% before 2016 is over — similar to what happened at the end of Prohibition and the start of legalized gambling in Atlantic City. This is why billionaires like Buffett, Thiel, Soros, and Musk are already lining up to cash in as the $200 billion marijuana market goes 100% legal. I'll give you the three best ways to invest right now so you can see the profit windfall of your life, too.


Bonus Report #1: "The Gold Barons: Make Money in Any Gold Market" — There's a little-known gold opportunity, one that hands investors three times more money when gold goes up — and doesn't go down when gold prices fall. Whether you are bearish or bullish on gold, this company can make you a fortune. You'll get all the details in this free report, including its name, profile, and ticker symbol.


Bonus Report #2: "The Forbidden Secret To Retire a Millionaire" — While most Americans remain clueless, you'll get full details on a secret type of savings plan called a $50 Retirement Plan. These plans trump Social Security, 401(k)s, and IRAs by a factor of 10, but they have remained a secret because Congress forbids companies from advertising them. Yet $50 Retirement Plans are legal, there are no age restrictions, and you can begin with a small starting amount. You'll get details on how to start these plans right away.


12 Monthly Issues of The Crow's Nest: Each month, delivered right to your email inbox, you'll receive this exclusive financial research newsletter filled with little-known moneymaking methods and investment opportunities. You won't find recommendations and financial strategies like these on the pages of The Wall Street Journal, Forbes, or any other mainstream publication.


24/7 Access to The Crow's Nest Archives: Once you get started and register as a new subscriber, you'll get immediate access to our password-protected website, where you can view all of our past monthly issues, research reports, research videos, and our model investment portfolio.


Urgent Investor Alerts: I will tell you what to buy and sell at the most opportune time. There is no guesswork on your behalf. If there's a moneymaking move that requires immediate attention, you'll get a quick alert to take action.


Reliable Support Staff on Hand: Got questions? Our support staff is ready to deal with any queries you may have.
And before I forget, there is one more important detail...
You'll also have our 100% Ironclad Guarantee: If you ever feel this service isn't for you, you'll be refunded every last penny — no questions asked — within the first 90 days.
IMPORTANT NOTE: As soon as you sign up, you'll receive a confirmation email with details on how to access everything I've described here. You'll also receive a toll-free number, which you can use if you have any customer service questions. To complete your order, simply fill out the secure order form below.
Sign Up Now and Save:
Do you have any questions or having problems ordering?
Speak to a representative by calling (toll-free) 855-877-8623
OFFER CODE:

WWP-938-79