This could be it for you... financial independence for the rest of your life.
The moment you sign up for private solar deals, you could begin collecting monthly royalty checks for life.
And I mean big checks.
As I laid out for you today, just $10,000 invested now could snowball into $150,000 in royalty checks — every year!
What would six figures of work-free income do for your life?
Retirement would not only be possible but easy. You'd finally be free!
Private solar deals can do this for you — and starting with only $100...
You can get access to the very same deals that Warren Buffett, Amazon, Google, Apple, Facebook and others are now using to buy into the $50 trillion solar gold rush.
The boom is already creating new millionaires. And my readers are among the winners...
I called Tesla right after its IPO. Back then it was only $13 a share!
And I've shown multiple triple-digit winners on this energy shift in just the past year or so. Big winners like...
172% on Hannon Armstrong
215% on U.S. Geothermal
159% on Greenbriar Capital
311% on Ormat Technologies
396% on SunPower
788% on Vestas Wind Systems
850% on First Solar
But that's just a taste of what's to come.
History shows the lion's share of this $50 trillion boom will go to an entirely different opportunity...
One not connected to the stock market.
I'm talking about royalties.
It's how millionaires are always minted in energy...
Just $10,000 invested directly with Standard Oil on the ground floor would have made you $12.5 million in income by 1906.
We all know the shale oil boom made historic fortunes, turning farmers and school teachers into "mailbox millionaires" earning six-figure royalties every month.
And it's how all the big names in energy — Rockefeller, the Koch Brothers, J. Paul Getty — have become some of the richest men in the world, minting thousands of new millionaires in the process.
Now we're shifting from fossil fuels to new energy — energy based on technology.
But here's the thing...
The opportunity in royalties is even bigger!
Because the $50 trillion solar boom is absolutely going to dwarf coal, gas, or oil.
Which is why all the billionaires are piling their fortunes into private solar deals — deals that generate a lifetime of royalties.
Warren Buffett is investing $1 billion...
Google is pouring in $5 billion...
Apple is putting in $3 billion...
Amazon is investing $2 billion...
And so on.
Now, thanks to a new SEC ruling, private solar deals are open to everyday Americans — even if you only have $100.
You now have the chance to earn as much as six figures in energy royalties right alongside the world's richest people.
I've uncovered six private solar deals — each open to you for a brief window.
Right now, you have a shot to buy into all of these deals — starting with only $100.
Getting everyday Americans directly into deals like this is what I love doing.
I want you to have the same edge the rich do in this world...
Which is why I've done all the due diligence you need — and compiled it all into a comprehensive report with full details on private solar deals.
I call it "Private Solar Royalties: Earn 6-Figure Payouts From the Clean Energy Revolution," and you'll have it as soon as you complete this form.
To put yourself in a position to reap maximum rewards from the $50 trillion solar gold rush, simply accept a risk-free — and obligation-free — trial of my extremely popular advisory service Green Chip Stocks.
Big Discounts... When You Act Before the
Clock Runs Out!
The clock at the top of this page shows you how much time you have left to qualify for the big discounts on membership in Green Chip Stocks detailed below.
Right now, you have only minutes left to save big bucks on your membership, which also includes:
Urgent weekly updates — Once a week, I update you on all of our current investments, including all breaking news, insider rumors, and more.
Invitations to private research trips — As a member, you'll be invited to join me on private research trips available to only a select few. You'll be invited to members-only private investor dinners with analysts and entrepreneurs in the renewable energy space and the other sectors I cover, giving you the opportunity to ask questions directly of the insiders who make the markets move.
Instant access to our Green Chip website — Everything I write and send you can be found on the password-protected Green Chip Stocks website: urgent alerts, special reports, videos, and announcements.
SPECIAL REPORT: "Private Solar Royalties: Earn 6-Figure Payouts From the Clean Energy Revolution"
BONUS REPORT #1: "A Solar Window in Every Home"
BONUS REPORT #2: "18 Mining Stocks to Play the EV Revolution"
Constant support — As long as you're a member of this community, you can contact me with any questions or issues you may have. My staff and I are always "at your service" to help you.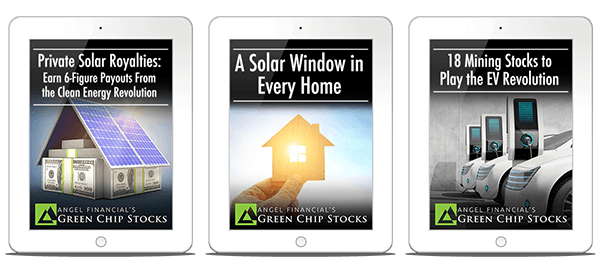 My Ironclad Guarantee of Your Satisfaction
Even after you've signed up for Green Chip Stocks, you STILL have a full six months to try us out without any financial obligation whatsoever.
If you're not totally happy with everything, all you have to do is call our direct support line at (877) 303-4529 and ask for your money back.
You get to keep all your reports, alerts, and updates as my "thank-you" for giving us a try.
Now, choose your discount package below... fill out the short form... and hit the "Submit Order" button.
Do you have any questions or are you having problems ordering?
Speak to a representative by calling (toll-free) 877-303-4529
OFFER CODE:

GCS-350-850
When you subscribe to Angel's Green Chip Stocks with your credit card, you'll be billed that subscription-choice rate. Every 12 months thereafter, we will automatically bill your card the lowest renewal rate we offer. With this auto-renewal feature, you'll lock in the lowest available price and guarantee that you'll never miss an issue or a recommendation of Green Chip Stocks. This auto-renewal feature does not obligate you in any way; you may opt out of auto-renewal at any time after this purchase. And you may still cancel within the first six months to receive a refund. To "cancel subscription" or "stop auto-renewal," simply contact us by phone (877-303-4529) during regular business hours or online at any time by emailing us at customerservice@angelpub.com, with reference to Green Chip Stocks.