Congratulations on Taking Action!
Clicking through to this order form proves you're someone who takes action.
And that you're someone who is determined to give their family the life they deserve.
Now you're just one small step away.
As soon as you fill out the form to the right...
You'll get your copy of "DAY ZERO: The Company That Will End Aging and Make You Rich"...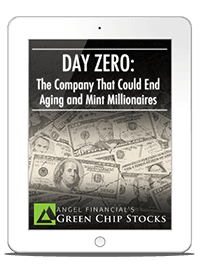 And on November 13, 2019, your life will change forever.
Life will change for everyone on Earth.
But only the few people who had the insight to take action today will have the chance to be wildly rich.
Your report is waiting for you. Just fill out the form to the right to get it immediately.
As you know, the normal price is $199.
But today, you'll get a full year of Green Chip Stocks for just $99.
I'll email you your report immediately.
Plus, for the next year, you'll get:
An "All Access" Pass to Green Chip Stocks...
Urgent Weekly Updates...
Invitation-Only Private Research Trips...
And Constant Direct Support...
That way, you can continue to be on the cutting edge of the next big biotech moves and announcements.
And set yourself up for even more big wins and profits.
Just like Medivation (MDVN) when it announced a new treatment for prostate cancer.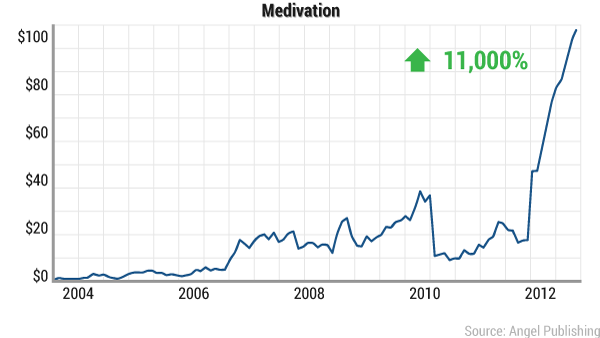 Or when Questcor Pharmaceuticals (QCOR) developed an MS drug.
And when Illumina (ILMN) made strides with gene editing.
This is the way to hit big wins, fast.
And you're just one simple step away.
Remember to Expect
Five-Figure Gains
A $10,000 investment in ILMN shot up to $390,000.
The same amount in QCOR gave investors back more than $500,000.
And anyone who put $10,000 into MDVN walked away with a cool $1,120,000.
Remember My Official Ironclad Guarantee to You
When you sign up for Green Chip Stocks, you can try it out for a full 30 days.
If you're not totally happy with everything, all you have to do is call your direct support line at (877) 303-4529 and ask for your money back.
You can even keep "DAY ZERO: The Company That Will End Aging and Make You Rich."
It's my gift to you just for trying us out.
Remember Your Dreams
What are you going to do after this announcement is made?
You'll be one of the few regular folks who got ahead of this amazing event.
Who are you going to tell?
Where are you going to go?
It's all totally up to you.
Most folks never even get a chance like this.
And even fewer take action.
And that's something that's up to you too.
You have the chance to get ahead of the biggest announcement in human history.
And change your family's life forever.
Just fill out the form to the right and you'll get "DAY ZERO: The Company That Will End Aging and Make You Rich" right away.
Remember, now it's your turn.
I look forward to welcoming you to Green Chip Stocks...
And hearing about all the amazing things you do after Day Zero.
Just fill out the form on the right and I'll send you your report.
Jeff Siegel
Investment Director, Green Chip Stocks