"I want to access the 'Steal Your Early Retirement Blueprint' today and learn how to turn
$500 into $5 million."
Your path to an early retirement could start the moment this lucrative research hits your email inbox!
Sign up right now for Penny Stock Millionaire, and you'll get the very next profit opportunity alert and immediate access to all my free reports.
This is one of the most incredible investment strategies in the world today, and it's one I've been using to make huge gains since I was in college.
In fact, my first trade ever netted me six figures... and I haven't looked back since.
It's a unique strategy that's helped make regular Americans absolute fortunes:
Anne Simpkins in New York City turned $5,000 into $22 million


28-year-old Jim Blakely turned his $1,500 life savings into over $1 million in profits


Homeless Jake Studebaker turned a $500 inheritance into $978,750 in just five weeks
Even more incredible is that none of these folks had any real investing experience to speak of.
Yet they were able to pocket absurd gains in the market... in an extraordinarily short amount of time.
And you could do the same thing starting today, thanks to the "Steal Your Early Retirement Blueprint."
All you have to do is take a risk- and obligation-free trial of my monthly advisory service, Penny Stock Millionaire.
You'll not only get a full 50% OFF this incredible research, but you'll also have the chance to get in early on some of the best (and safest) penny stock plays currently available.
Everything You'll Get With Your
Subscription to Penny Stock Millionaire
When you agree to take advantage of the Penny Stock Millionaire offer I'm making you today, you'll receive an incredible bundle of wealth-building tips and tools.
The minute you sign up below, you'll have access to:
Special Report: "Maximum Microcap: The Insider's Guide To The World's Fastest Growing Stocks" — This is your guide to pocketing the most explosive gains in the penny stock market. And it all starts with a company I think is primed to become the next triple-digit knockout.
Weekly Issues of Penny Stock Millionaire: You'll receive every copy by email, quickly and efficiently.
Real-Time Buy and Sell Alerts: In this fast-moving market, opportune buy and sell points can come at any time... and I'll make sure you receive them the moment they arrive.
Specific Entry, Exit, and Target Prices: You'll never have to guess if a stock is a good buy or not. I'll always give you specific entry points, sell prices, and realistic targets for our recommendations.
Complete Research for Every Recommendation: You'll always know exactly why I recommend a stock. You'll know what catalysts to expect and what hurdles to watch out for. That way, you can invest and profit with confidence.
VIP Service: A subscription to Penny Stock Millionaire qualifies you for VIP service. You can contact the VIP team with any questions at (844) 310-4115.
But that's not all. You'll also immediately receive these FREE blockbuster bonus reports:
Bonus Report #1: "Cannabis 2.0: From Grow Op to Global Empire" — This is no ordinary cannabis operation. It's gone global, building an empire through the strategic acquisition of properties, brands, and products. As the legal cannabis industry booms, this company, powered by some of the smartest minds in the business, will expand into new territories, broaden its consumer reach, and grow its stock by orders of magnitude. Forget Canopy Growth and Tilray. Get in now, before this becomes the next multibillion-dollar cannabis empire.
Bonus Report #2: "The Penny Stock Quick-Start Guide" — Learn all the tricks and how to recognize all the pitfalls of the most lucrative kind of stock trading in existence with the "Penny Stock Quick-Start Guide."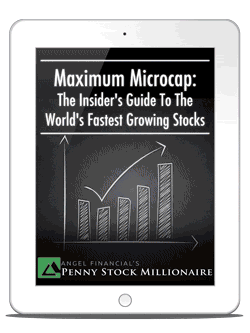 My Ironclad Guarantee
At Penny Stock Millionaire, I am keenly aware that more and more individual investors like you are taking control of their investments and retirement planning.
After traditional financial planners and Wall Street advisors utterly failed to protect investors' money during the financial crisis, well, it's easy to see that you can do better...
I firmly believe individual investors can do better than mutual fund managers and financial advisors — MUCH better.
And by joining Penny Stock Millionaire today, you're taking the first step toward true financial independence.
However, I want to prove it to you. I want to show you just how much money Penny Stock Millionaire could help you make.
So I've made sure there's absolutely no risk or obligation for you today.
Simply become a member today, and give Penny Stock Millionaire a try for 60 full days.
Take that time to decide if Penny Stock Millionaire is right for you.
You'll have full membership access the entire time, so you can log in to the private member's site, check out all the special reports, and view every update I've posted.
If you find Penny Stock Millionaire isn't what you thought, just let me know, and I'll refund every penny you spent on the subscription — no questions asked.
Any information, reports, and, of course, any profits you received courtesy of my service are yours to keep.
But once you see how easy it is to collect profits with penny stocks, I'm confident you'll realize just how valuable Penny Stock Millionaire will be to you.
Remember, you could turn just $500 into a sizable retirement nest egg inside of one year alone... and there's no telling how much you could make in the coming years.
So take action now, and learn how to rake in penny stock profits starting TODAY!
YES! ACTIVATE MY MEMBERSHIP RIGHT AWAY!
Limited-Time, Guaranteed Lowest Subscription Offer. Please sign me up for one year of full access to Penny Stock Millionaire at the lowest price possible of just $1,999 for an entire year. I understand that I have 60 full days to see if Penny Stock Millionaire is for me, and if I decide to cancel during that time, I'll receive a full refund, no questions asked.
Do you have any questions or are you having problems ordering?
Speak to a representative by calling (toll-free) 844-310-4115
OFFER CODE:

PSM-192-161
When you subscribe to Penny Stock Millionaire with your credit card, you'll be billed that subscription choice rate. Every 12 months thereafter, we'll automatically bill your card for $1,999, the lowest renewal rate we offer. With this auto-renewal feature, you'll be locking in the lowest available price and will guaranteeing that you'll never miss an issue of or a recommendation from Penny Stock Millionaire. This auto-renewal feature does not obligate you in any way. You may opt out of auto-renewal at any time after this purchase. And you may still cancel within the first 60-days to receive a full refund.